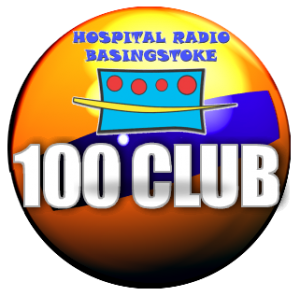 THREE PRIZES A MONTH IN THE HRB 100 CLUB
Hospital Radio Basingstoke is registered charity run solely by volunteers. Our station broadcasts 24 hours a day exclusively to patients and staff of Basingstoke & North Hampshire Hospital & some local care homes.
We visit the wards daily for our live Music on Demand shows and try and play as many requests as we can.
We rely entirely on the support of local businesses and residents to survive.
By joining the HRB 100 club you can help ensure that Hospital Radio Basingstoke remains open as a resource for all the residents in our community; as well as having a chance to win a cash prize every month!
The Hospital Radio Basingstoke 100 Club is a private lottery and is open to all members, their family and friends. As a private lottery you have to be invited to join and you will be allocated a number for the monthly draw.
Each month there is a draw where 50% of the income will be used for the prize money. For example, if we have 100 members the income for that month will be £200 and the prize money will be £100.
We want to start the monthly draws when membership reaches 40 – and we will be offering 3 monthly prizes.
First Prize – £30
Second Prize – £20
Third Prize – £10
The monthly prize draw that will take place on the second Thursday evening of the month. Please see below dates;
The draw will only commence once we achieve a minimum of 40 members. The maximum number of participants will not exceed 120 members at any time.
To simplify matters, your membership number would be paid for 12 months in advance (£24 per number)
All prize winners will receive their winning money via bank transfer into their accounts within 5 days.
To Enter –
Step 1. Download and complete the application form and return it to us via your member friend or complete the online form below.
Step 2. Pay your membership money of £24 into the 100 Club Account with your full name in the reference.
Sort Code 30-90-53 Account No. 59248368
Step 3. We will email you with a ball number that is yours for the 12 month period.
You will not be entered into the draw until we receive both your payment and your form.
The draw will take place each month on the following dates:
Thursday 12th July
Thursday 16th August
Thursday 13th September
Thursday 18th October
Thursday 15th November
Thursday 13th December
Thursday 17th January 2019
*The first draw will happen when there is a minimum of 60 people.
The winner will be announced on air and on our website during the evening.
Please use the email address 100club@hrbasingstoke.co.uk for any queries and questions.
Please note, when you have completed the form below, click on "send". The completed form will disappear and be replaced with a message saying it has been sent successfully. If it hasn't been sent successfully, the form will reappear along with an error message telling you why.
Your information will only be used for the purpose of the 100 Club draw and will not be shared with any third party or used for any other communication.