Listen Right Now
Dave Leonard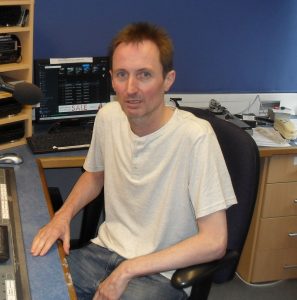 FIRST SHOW ON HRB:
22nd July 1981 (when the station was known as CMMR)
CURRENT SHOW ON HRB:
Sunday 11am – 12.30pm
MUSICAL LIKES:
70s and 80s, Disco and soul;
George Michael, Phil Collins, Sting, Whitney Houston, S Club 7, and Des O Connor. Every show should of course have plenty of Des!
MUSICAL DISLIKES:
Dustin The Turkey
ENJOYS MOST ABOUT HRB:
Providing a worthwhile and memorable service for the patients and staff, meeting a variety of different characters during my ward rounds and making close friends with many members over the years.
BEST HRB MOMENT
1984 – The first year of HRB – the station worked so well together as a team.
1988 – Induction loop was introduced;
The HRB Music Awards programmes;
Nov 2000 – when I was elected Chairman;
Jan 2001 – When I was the first person to broadcast after the station was off air for 18 months
OTHER RADIO EXPERIENCE
Reporting and producing sport on both BBC and independent local radio, and being part of Basingstoke Carnival Radio and Kestrel FM when they were run as short term stations in the early nineties.