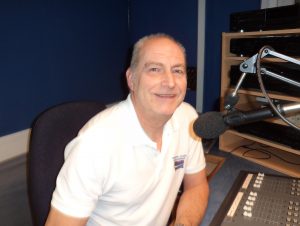 JOINED HRB
2016
CURRENT SHOW
Thursday 7 – 8.30pm
MUSICAL LIKES
Rock, Indie or anything with a good guitar riff. I also like most seventies music.
MUSICAL DISLIKES
Rap, Jazz
FAVOURITE NON-HRB ACTIVITY
Football – I am a season ticket holder at Southampton FC and also attend many away games. I am also an avid reader of 20th century history particularly military.
TOP TV
Other than sport, I do not watch a lot of TV. I quite like straightforward quiz shows like University Challenge, Mastermind and enjoy documentaries relating to 20th century history.
TOP SPORT

Football.
I also enjoy most contact sports e.g. rugby, Aussie Rules Football and American Football.Not really a sport but I work out at a local gym on a daily basis.