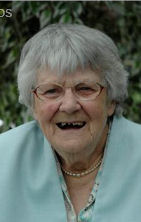 Can you imagine what it's like to reach 100? On Saturday we helped Mary Wythe celebrate her very special birthday with a special edition of Residents Requests on HRB.
Mary, is currently living at the very lovely and caring Barchester Blossom Cherry Manor, where staff love looking after her and found time in their busy schedule to talk to Christine Rowley about her days and history.
Mary's daughter also popped along to Bramley to tell us all about her mother's life, with some really interesting stories tiold.
It was a special show for Mary presented by Christine Rowley which featured Mary and her friends talking about her life and playing some of their favourite music.

Residents' Requests is our regular request show for residents of local care homes. Currently the show is for Basingfield Court in Old Basing but HRB would love to expand the show to feature other care homes. If you know of a care home that would like its own show playing requests for the residents, please get in touch with HRB.