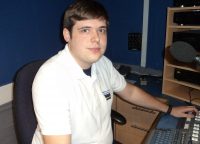 We are pleased to present HRB's Christmas programme schedules for 2018.
Christmas Crackers, Requests, Christmas pantos, competitions, special guests and the return of The BIG Broadcast are all part of HRB's line-up for Christmas and New Year 2018.
The schedule starts on December 16th with 5 hours of fast moving festive fun in Neil Ogden's Sound of Sunday Big Christmas Show. This year we will be welcoming Basil Brush, Mike Read and Dani Harmer amongst others as special guests, we'll be around the wards pulling crackers with the staff and patients and one member of staff will win a family ticket to go and see this year's Christmas panto at the Anvil.
There will be live request shows throughout the holiday period, including Christmas Day and Boxing Day, making sure that HRB continues to play the music our listeners want to hear.
Chief Executive of Hampshire Hospitals Alex Whitfield will join us for a special Music on Demand to play requests and talk what's happening at the hospital this Christmas.
As well as request shows, there are plenty of other programmes of interest. The surviving members of Led Zeppelin talk about the new music they have been making, there another chance to hear our Queen and Genesis specials and Keith Graham tells the story of disco.
Richard Smith plays plenty of Christmas music from each decade from the 50s to the 00s in special editions of The A to Z of Pop and returns with his team on 30 December for 42 hours of entertainment on over 40 hospital radio stations in the annual BIG Broadcast.
There's special festive editions of many of our regular shows such as Vinyl Impressions, After Hours, The Sound of Country and The Retro Radio Show, plus Dallas and Camo present as special evening of country music in a Christmas edition of Nashville Access.
Andy McCormick presents his annual Christmas Day Postcard from New Zealand and Vernon Pearce presents his festive Postcard From Spain.
There's another chance to hear our outside broadcasts from the Basingstoke Transport Festival and Alton Lions Party in the Park and there's highlights of the Alton Herald Classic Car Show.
Michaelle Monro presents two Mat Monro specials, there's another chance to hear Peter Purves talk about Blue Peter's 60th Birthday along with other guests from the world's longest running children's TV show, and Neil Ogden will count down the most requested artists of 2018.
THE HIGHLIGHTS
Music On Demand
Throughout Christmas
We have request shows (Music on Demand) throughout Christmas. Patients can call free from their bedside phones, staff can call extension 4 3 5 2 1 and requests can also be made via the HRB website at www.hrbasingstoke.co.uk
The Sound Of Sunday Big Christmas Show
Sunday 16 December 12 – 5pm
The traditional start of the HRB Christmas schedule with the Great Christmas Cracker Dash, competitions, special guests and surprises.
Looking Back with Terry Firth
Christmas 2002 – 16 December 9pm
Christmas 1988 – 23 December 6pm
Christmas 1993 – 26 December 11am
December 1991 – 27 December 11am
December 2009 – 28 December 11am
New Year 2007 – New Year's Day 8pm
A look back at the local and national news stories and the music from December and Christmas from the past.
HRB Christmas Pantos
Throughout Christmas
They've been part of HRB at Christmas for nearly 30 years and they're back again. The five HRB Christmas pantos starring HRB past members can be heard at various times.
Richard Smith's A to Z of Pop for Christmas
Christmas songs galore plus a Motown Christmas special and a show for each decade from the 50s onwards every evening from 16 December.
The Sound of Country Boxing Day Special
Boxing Day 5pn
A special edition of The Sound of Country dedicated to the Eagles' last and very special album Long Road out of Eden.
The Vintage Christmas Years with Jim Simpson
23 December 8am
The best Christmas music from the 1920s through to the 1960s with "Vintage Jim"
Acceptable 80s Christmas
Thursday 20 December 6pm
Paul Baker plays the best music that Christmas in the 80s had to offer.
Fabulous Fifties Christmas
Tuesday 18 December 4pm
Les Peckham presents some great Christmas music from the 1950s.
The Chief in the Chair – Music on Demand featuring Alex Whitfield, Chief Executive of Hampshire Hospitals
Wednesday 19 December 4.30pm
Alex Whitfield joins Dave Leonard to play requests and talk about what has been happening at the trust over the year and Christmas in hospital.
Nashville Access Christmas Special
Sunday 23 December 7pm
A 4 hour festive edition of our weekly country music show with all the following:
"Twas The Night Before Christmas" poem read by Country Stars:
Keith Urban
Osborne Bros
Jordan Davis
Lauren Alaina
Eric Church
Darius Rucker
Carrie Underwood
Easton Corbin
Luke Bryan
Alan Jackson
Top 3 Funniest Christmas Songs of All Time
Top 3 Christmas Songs of All Time
Top 3 "Lumps Of Coal" (Christmas songs you may not want)
Interviews with:
Darius Rucker
Shane Owens
Country Super Group Exile
Christmas Memories from:
Hilary Scott of Lady Antebellum
Brett Young
Carly Pearce
Midland
Florida Georgia Line
Rascal Flatts
Ronnie Dunn
Christmas Duets from artists like:
Brett Eldredge & Meghan Trainor
Gwen Stefani & Blake Shelton
Jake Owen & Parmalee
Jennifer Nettles & Idina Menzel
George Strait & Phil Robertson of Duck Dynasty
Kacy Musgraves & Willie Nelson
Plus Christmas classics and new original music from:
Dylan Scott
Martina McBride
Aaron Watson
Kelly Clarkson
Reba McEntire
Brad Paisley
Taylor Swift
Dan + Shay
Tim McGraw
Chris Young
Jerrod Niemann
Luke Bryan
…Plus many more!
Vinyl Impressions Christmas Countdown
Christmas Day 2am
Martyn Brown counts down the top 60 most popular Christmas tunes all played on vinyl in a special 4 hour show to bring in Christmas Day.
The Wolfman Jack Christmas Show
Christmas Eve 6am
Wolfman Jack is the most famous US radio personality of all time. He was immortalised in the movie 'American Graffiti' and was also the host of the long running NBC music series 'The Midnight Special'. Millions of people listened to him every night on radio for the howling sounds and great music he played.
When the Wolfman went to Rock & Roll Heaven in 1995, the tapes of all his shows had been locked in a vault and hidden away. Some months ago, those tapes were found, digitally remastered and started to appear on the radio all over again.
There was only one radio legend like Wolfman Jack and he's on HRB this Christmas throughout Christmas week.
Matt Monro's Christmas Box
Christmas Eve 4pm
Matt Monro's daughter Michelle presents this special show produced especially for hospital radio, which contains some of Matt's favourite festive songs.
Paul Baker's Mystery Top 40 Christmas Countdown
Christmas Eve 9pm
Paul Baker presents a special 2 hour edition of the Mystery Top 40, counting down the top 40 best selling Christmas songs of all time.
The A to Z of Your Traditional Christmas
Christmas Eve 11pm
An hour of more traditional Christmas music to celebrate the start of Christmas Day.
Music on Demand Live for Christmas Day
Christmas Day 8am
Dave Sanger, Dave Leonard and April Haywood are your hosts for 4 hours of Christmas morning requests while Hugh Higgins is on air live from 6pm.
Postcard From New Zealand
Christmas Day 12pm
Andy McCormick is here on Christmas Eve to give listeners a taste of Christmas down under where the temperature is about 25 degrees and shorts on Christmas Day are normal!
The Queen
Christmas Day 3pm
It wouldn't be Christmas without Her Majesty's message to the Commonwealth on Christmas Day at 3pm.
Vernon Pearce's Christmas Postcard from Spain
Christmas Day 3pm
A taste of sunshine as Vernon brings you Christmas in sunny Spain including some Spanish Christmassy music.
Dream Lover, Mack the Knife and Things – The Bobby Darin Story
Boxing Day 11am
Iain Smith presents the programme which won gold in the 2005 HBA awards, Specialised Music category – a documentary on the life and career of singer Bobby Darin.
Music on Demand Live for Boxing Day
Boxing Day 12pm
John McKay is your host for two hours of Boxing Day requests.
The Sound of Sunday at the Alton Lions Party in the Park
Thursday 27 December 4pm
Another chance to hear the show recorded at Alton's Party in the Park in June.
Top 40 Most Requested of 2017
Friday 29 December 3pm
Neil Ogden counts down the chart that is compiled from requests collected over the last 12 months. There are almost 4000 requests that will make up this chart and a prize is on offer to anyone who correctly guesses the number one, which will be revealed just before 6.
The Story of Disco
Wednesday 26 December – Friday 29 December 10pm
Saturday 30 December 6pm
Keith Graham tells the story of disco music in 4 parts.
Alton Herald Classic Car Show 2018
Friday 28 December 1pm
Courtesy of Wey Valley Radio's coverage, a chance to hear the highlights of one of Alton's biggest events of the year.
Matt's Kind of Music
Friday 28 December 8pm
A hospital radio special in which Matt's daughter Michelle remembers the music of her father.
The Sound of Sunday Blue Peter Guests Special
Saturday 29 December 11am
Another chance to hear former Blue Peter presenters Mark Curry and Peter Purves plus current editor Ewan Vinnicombe and former Producer and Director Alex Leger talk about their time on the world's longest running children's TV show.
Basingstoke Transport Festival
Sunday 30 December 12pm
Another chance to hear April Haywood out and about at one of Basingstoke's biggest events of the year.
Mary Tamm: The Original Doctor Who Girl
Sunday 30 December 1pm
Mary Tamm was perhaps mostly known for her role as Romana in Dr. Who, but she had had a long and varied career in TV, film and theatre.
Fellow actress and friend Jenny Runacre speaks here with Mary about her work in this touching and funny interview – one of the last she did before sadly passing away in 2012.
Dougal's Diary by Sarah Stephenson
Saturday 29 December 10am
A compilation of 5 extracts from the book by Sarah Stephenson.
The book is a light-hearted story of a hypochondriac puppy, written from Dougal's point of view about his life in London.
He arrives in Greenwich with great expectations, longs to travel the world on Virgin Atlantic, dine at royal banquets and either become a superstar and party the night away or work as a doorman at the Savoy.
Behaviour classes are not on his wish list, neither are cliff-hanging experiences on the Thames, booze cruises to Calais or obsessions for eating socks.
Can Dougal survive life with his chaotic owner and her eccentric friends? Can he deal with his jealousy when a foster puppy comes to stay?
And as for his dreams, will they ever come true?
The Happy Hour Beatles Bonanza
Wednesday 2 January 10pm
Jim Stevens play the favourite Beatles songs of 15 British and American celebrities and explains why they chose them. The show finishes with a run-down of the Top 10 songs chosen by listeners.