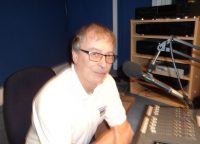 Following being named as the most requested artist on HRB of the year, Elvis Presley has now been named as the most requested of the decade.
Neil Ogden counted down the top 15 of the chart compiled from requests played since 1 January 2010, which had Queen at number 2, down one place compared to when this chart was last broadcast 5 years ago. Frank Sinatra completed the top 3.
Ed Sheeran was the highest new entry at number 8, and Rod Stewart was the highest climber compared to 5 years ago, up from number 28 to number 12.
The full top 15 is below and will be updated to take December's requests into account in January.
15 (20) CASH, JOHNNY
14 (17) COLE, NAT KING
13 (24) REEVES, JIM
12 (28) STEWART, ROD
11 (09) WILLIAMS, ROBBIE
10 (13) RICHARD, CLIFF
09 (06) TAKE THAT
08 (NEW) SHEERAN, ED
07 (08) BUBLE, MICHAEL
06 (05) ADELE
05 (04) BEATLES
04 (02) ABBA
03 (07) SINATRA, FRANK
02 (01) QUEEN
01 (03) PRESLEY, ELVIS