HRB Helps to bid farewell to Neighbours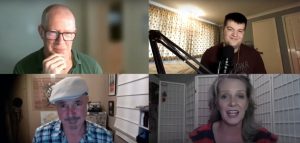 After 37 years on the air, Australian soap Neighbours will be coming to an end on July 29th. HRB will be marking the final episodes with special shows.
On Saturday 23 July, Neil Ogden will play some of the music created by the Neighbours cast over the years. Kylie and Jason will obviously be included plus others such as Delta Goodrem and Craig McLachlan. And there'll be a couple of less known versions of the famous theme tune too.
Then on Sunday, 3 of the longest serving cast members will join us for a chat about their time on the show and their thoughts about the show coming to an end. Geoff Paine (Clive Gibbons), Lucinda Cowden (Mel Pearson) and Alan Fletcher (Dr. Karl Kennedy) will be talking to Matthew Rolland in a special interview which was originally recorded in March on the show's 37th anniversary just after its cancellation was announced.
So join us for out two Neighbours specials this weekend.
As Heard on TV Neighbours Special Saturday 23 July 5pm
The Neighbours Farewell Interview Sunday 24 July 4.30pm