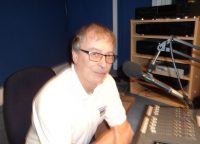 The 1000th Sound of Sunday will be live from the home of London 2012.
The show will come live from Queen Elizabeth Olympic Park in a special live outside broadcast on Sunday 6 March.
Presenter Neil Ogden, who is also a volunteer Park Champion at the park, hopes to get around as many of the venues within the park as possible within the 2 hour show, which will also include the usual Sainsbury's draw as well as requests. This will include the Copper Box Arena, the Velodrome and the Aquatics Centre.
The Sound of Sunday 1000th show 1pm Sunday 6 March 2016