Special Programme to look back on Last 12 Months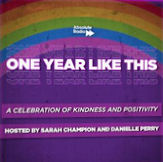 As we look back on the last 12 months, we have lots to remember and think about. A special programme this Saturday afternoon (27 March) will do just that
As well as telling the stories of the people who've helped to improve our lives in the last year, it will also showcase the power of music with new and exclusive performances from artists including Travis, Amy MacDonald, Maximo Park and Jake Bugg to name but a few.
The programme was produced by and first broadcast on Absolute Radio and a special version is made available for hospital radio stations to use in their schedules.
Sarah Champion and Danielle Perry present One Year Like This on Saturday 27 March at 4pm.