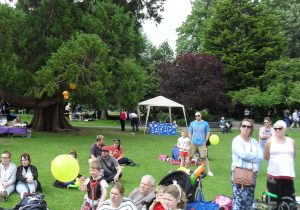 The annual Alton Lions Party in the Park took place in the public gardens on 10 June and HRB was there to sample a day of magic themed fun.
It was all to raise money for Alton Lions supported charities, and Treloars plus the charities who had stalls could keep money they raised themselves.
The day was themed around magic and Harry Potter and there was even a mini steam train – on its way to Hogwarts of course!
Neil Ogden recorded The Sound of Sunday Summer Special at the event which will be heard on air on 18 June. During the show, he chatted to some of those who were there and part of the day including Trip Wire who provided the live music throughout the day.