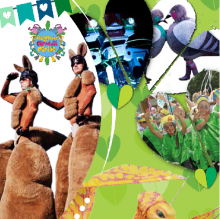 On the day when the Basingstoke Festival 2020 should have been getting underway, HRB remembers the event that started everything in 2016.
Basingstoke's 3-week celebration of arts and culture had to be cancelled this year due to the Coronavirus pandemic, but various Basingstoke Festival events have featured as outside broadcasts over the years.
In 2016, the festival started with a colourful and musical parade through Basingstoke, winding its way from Cross Street, through Wote Street, round the side of Festival Place and into Eastrop Park.
There was all sorts of costumes and performances along the way and the programme, which was broadcast live at the time, featured the music and atmosphere of the event and chatted to some of those taking part.
HRB Out and About at the Basingstoke Parade 2016. Friday 19 June 3pm