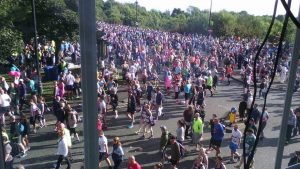 It's one of the UK's biggest sporting events and once again HRB will be bringing its listeners coverage of the build up.
The Great North Run 2019 is always a popular and much enjoyed event – and every year Radio Tyneside, the hospital and community radio station for Newcastle cover it live – and makes its award-winning coverage available to other hospital radio stations.
Radio Tyneside's presenters will be talkking to some of those taking part and bringing the atmosphere of the event to listeners.
Their coverage has won awards in the past and several radio stations will be joining them this year.
The Great North Run 2019 Build Up 9 – 11am Sunday 8 September.