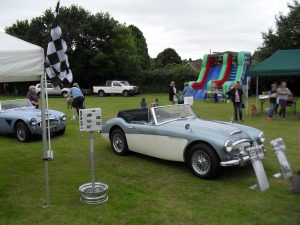 It's a typical village fete that has been running annually for at least 70 years, and it's back again this weekend. The Froyle Fete is held in the village of Froyle near Alton on the second weekend of July and HRB will be there to sample the delights of the events once again – but you'll have to wait a while to hear what we get up to as the programme will not be heard until New Year's Day.
Presenter Neil Ogden will be recording a special New Year edition of The Sound of Sunday, even including the Tell Me When Brain Teaser with HRB mugs to give away, and the show wil be heard right after the New Year's Eve Big Broadcast has wound up after 24 hours at mid-day on 1 January.
The weather promises to be very warm and dry – just right for en excellent event which includes lots of side-shows and stalls along with events going on in the arena. Why not come along and enjoy it yourself, or listen in on New Year's Day.