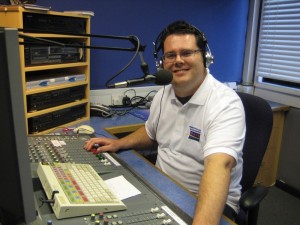 From Dawn to Dusk – Patients and Staff at Basingstoke Hospital were treated to a live on air 2012 minute Marathon weekend.
For a staggering 33 hours and 32 minutes Chris was on air at Hospital Radio Basingstoke, presenting a mix of shows including the best bits of 2012 and all to raise much needed funds for HRB.
Chris,,a volunteer HRB presenter since February this year wasn't aiming to beat the Guinness World record for the longest radio show, currently held by Radio 1 DJ Chris Moyles, or the longest ever radio show which is held by an Italian DJ who lasted a total of 183 hours in May 2009. Chris just wanted to keep the banner flying for HRB and their 40 year commitment to hospital radio and entertain patients and staff all weekend.
Chris pictured below, said he was really pleased to have such a lot of support from other HRB volunteers and staff and patients on the wards. HRB, which is celebrating its 40th anniversary year and over 79,000 patient requests, were delighted at this innovative way to help raise funds for the Charity which is run solely by volunteers and relies on public contributions to help towards running costs.
Marilyn Price, Chair of HRB said how proud she was of Chris for his commitment, giving up his entire weekend volunteering at hospital radio and taking the 24 seven literally, and entertaining everyone, live on air.
Florence a long term patient said "how she loved listening to HRB as it kept her mind occupied during her stay in hospital. She also wanted to thank the staff as well who she said offered first class care".
To add an international touch to the weekend Chris was joined by HRB presenters from Spain, Vernon Pearce and from France, Paul Le Feuvre.
Helping out in the Studio was Jeremy Miles, Julian Oliver,David Lawrence and Dave Warren along with Programme Controller, Neil Ogden.
Chris wasn't just doing this for fun but to raise much needed money to ensure HRB has a bright future.