Maria Miller Visits HRB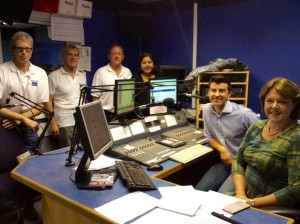 Basingstoke's MP Maria Miller has visited Hospital Radio Basingstoke and taken part in a live show, answering listeners' questions and talking about life as the local MP.
Subjects asked about included the new Critical Treatment Centre that is being planned for Basingstoke and plans for housing in the area.
Dave Warren presented the show, which also included requests collected earlier in the day. HRB members John McKay, Paul Turner, Shubnum Gill, and Neil Ogden were also on hand to help with the show, which as well as well as being broadcast on air, was also streamed on Periscope via Twitter.