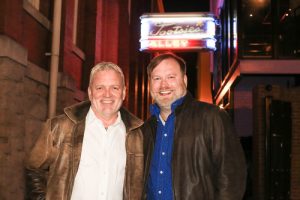 Nashville Access made its worldwide debut last November–Thanksgiving in the United States–with a total of approximately twelve stations: some in Mexico, one in Australia, and one in England. Now, just a few months later, the weekly, one-hour country music radio show is heard on 51 radio stations in 15 countries and has spun-off into a weekly Facebook Live and Youtube tv show.
This week, one of the show's affiliates, Best Country Radio, based in Providence, Rhode Island, dubbed Nashville Access as "one of the hottest new shows on country radio."
Hosted by radio veterans Dallas and Camo, Nashville Access features hot, current country hits, interviews with the biggest acts in country music, country music news, the top-three country hits in the world–featuring the Nashville Access Number-1, and the Nashville Access Super Pick–featuring a strong rising talent or independent artist.
"When Camo and I were brought together, we wanted to create a show that would bring Nashville to the world," says show co-host, Dallas. "It had to be more than a countdown show–but it had to be able to let people know what the top songs are. It had to be able to give people a glimpse backstage, on tour, or at an award show–all the things that make Nashville unique."
Co-host, Camo agrees. "Yeah, absolutely. People all over the world see the tv show 'Nashville.' From that they get a fictionalized view of what goes on, but Music City is about the music. And Country Music is all about stories, so we hope that, with every show, we bring our listeners the music story of what's happening in Nashville that week."
Nashville Access is now heard on radio stations in Argentina, Costa Rica, Mexico, Canada, Australia, New Zealand, England, Scotland, Wales, Northern Ireland, France, Netherlands, Norway, Greece, and in the USA.
According to the show's Executive Producer, Holly Bell, "Our primary market is outside the United States, but we're starting to get more and more interest in the US as well. Our affiliate list includes four stations in Texas, one in Indiana, and of course, Best Country Radio in Providence, Rhode Island."
And it's not just the affiliate list that's growing. Holly continues, "With our growing list of affiliates, advertisers are seeing the potential to reach a variety of markets as well. In Mexico, sponsors have included Coca Cola, TelCel, Oxxo, Velas Vallarta (all inclusive resort), and Liverpool. While in Tamworth, Australia the show has been heavily sponsored by Supersteel Tamworth. Advertisers are realizing that they can buy our entire worldwide audience–which is perfect for tourist desitination-type clients and record labels; or reach specific regions, which works best for advertisers going after a specific target audience."
Whether you're in programming or advertising, "one of the hottest new shows on country radio" needs to be on your radar.
About Dallas:
Dallas has, literally, grown up in the entertainment industry. His broadcast career began in 1988 and has never stopped, even while taking on roles in film, television, and live stage shows for Disney and Universal, he always maintained a presence on the radio. His voice has been heard nationwide. He has hosted top-rated shows from Pittsburgh, PA, to Washington, DC: from Rochester, NY, to Boise, ID: from Salt Lake City, UT, to Portland, ME. He has been the promo voice for great radio stations across the country like WWMX (Mix 106.5) in Baltimore, MD, WWDC (DC101) in Washington, DC, WLKT (104.5 The Cat) in Lexington, KY, and WTCF (Pirate Radio 100.5) in Saginaw, MI. He was half of the award winning morning show "Wakin' Up Country" on WKWS (Kicks96) in Charleston, WV, in the mid 90's. He then went on to co-create "Dallas & Dixie In The Morning" on WGNE (99.9 Gator Country) in Jacksonville, FL.
Dallas is also a Voice-Over artist. He has been the voice for numerous Hollywood movie trailers, animated characters, and commercials for companies like Coca-Cola, Anheuser-Busch, McDonalds, Pizza Hut, and Honda. He was the narrator for Jerrod Niemann's debut album, and a narrator for N.A.S.A., where he has been the narration voice for documentaries along side William Shatner. So, in short … he talks a lot.
About Camo:
Like many frustrated musicians (Camo plays Pedal Steel Guitar). Camo started his radio career at 820 CHAM Country, in Hamilton (Ontario, Canada). Then came a move to 1390 CHOO–which became KX96FM– in Ajax/Oshawa; then CKDO/Magic FM in Oshawa, Q107/am640 in Toronto, and then Jack FM/CHFI in Toronto.
In 2001, Camo moved to England and worked at radio stations in Sittingbourne, Kent, and Peterborough, Cambridgeshire.
Camo moved to Nashville in 2011 and married singer/songwriter Jo-Leah. He hosts feature, "Live From Nashville," which airs weekly on Siren 107.3 FM in Lincoln, Lincolnshire. He is also one of the hosts of the Tyler, Texas based weekly TV show, Young Country.