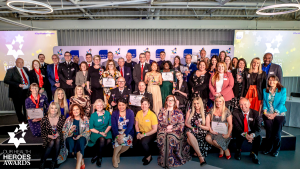 HRB is to feature the Our Health Heroes Awards during Easter weekend.
The winners of the sixth annual Our Health Heroes Awards were announced on 24th March at a glittering awards ceremony held at the London Science Museum.
Supported by Health Education England, NHS Employers, UNISON, Bevan Brittan, SFJ Awards and Chamberlain Dunn, Our Health Heroes Awards celebrates the wider healthcare workforce that supports our NHS on the frontline.
From porters and cleaners to receptionists, gardeners and security guards, these often unsung heroes make up roughly 40% of the NHS' million strong workforce; Our Health Heroes Awards is a national celebration of their achievements and an opportunity to give thanks for the important role that they play in keeping our health service functioning.
Some of the winners will be heard talking about their award and what they do.
The programme can be heard on Easter Sunday at 4.30pm.
The full awards show can also be viewed below.