Someone Wins Every Weekend!
Every weekend on HRB, someone who has a request will also be walking away with a prize in our weekly Sainsbury's prize draw. The prize of a bag iof goodies donated by Sainsbury's at Liphook, who have been providing the weekly prize since October 2011.
Those who make a request on a Friday, Saturday or Sunday are given a number in the draw and at 2.40pm every Sunday, a number is picked at random. The person who picks the number varies from week to week – it could be another HRB presenter joining us on the phone or even in the studio, or quite often it is the switchboard who get the honour of picking the winner.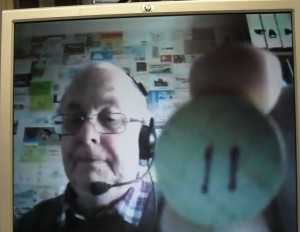 Paul Le Feuvre is one of the people who picks the winning number, joining us live from Alton
To take part in the draw, you need to make your request on a Friday, Saturday or Sunday. The closing time is 2.30pm (we can still play the request after that time). The draw is open to patients only.
When the G Floor Jukebox returns, we will once again have a special draw just for the children's ward.