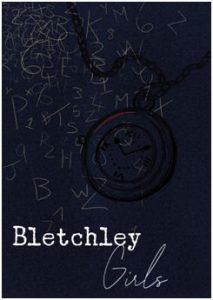 "Germany is winning the war, England's being bombed into oblivion… and MI6 is depending on a small team of girls working in a freezing hut in the English countryside to break Germany's most secret code."
Inside Bletchley Park, Dilly Knox enlists a small team of girls to crack some of the enemy's toughest codes. Whilst Margaret Rock is a trained statistician, the newest recruit is Mavis Lever, 19 years old and a student of German romantic poetry. A friendship develops between this unlikely pair as pressure mounts on them to decipher intercepts which will impact the course of the war. It's a phenomenal task – "We must know what Hitler knows" – and they work against the clock – and the odds. But it's not all night shifts and Enigma machines; there are dances, pranks, and even a touch of romance.
Jenny Wren Productions presents this radio drama based on the untold true story of two female codebreakers at Bletchley Park at the height of World War II.
The play was to have had ten live performances in Gloucestershire over May/June 2020. Due to the pandemic, the creative team transformed it into a radio play. The play originally premiered in 2018 under the title Secrets, Lies and Spies.
In creating the radio play, significant contributors were Jenny Wicks director, of Jenny Wren Productions, Helen Jeffrey producer, Paul Hamblin sound editing, mixing (Boom), Saoirse Christopherson sound editing (Boom), Danny Hambrook microphones, Jim Barnes composer, Kieran Capaldi technical support and cast member, and the balance of the cast Moya Matthews, Rosie Mason, Philip Douch, and John Stevens.
This three part drama can be heard over this coming weekend on HRB:
Part 1 Saturday 11 November 5pm
Part 2 Sunday 12 November 12pm
Part 3 Sunday 12 November 2.30pm