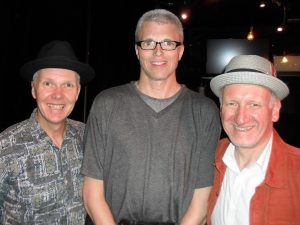 For the last 10 years, the stars of Saturday morning TV have been taking part on The Sound of Sunday Saturday Morning Tv SuperQuiz, with Live and Kicking's Andi Peters the final person to take part last weekend.
Those who have taken part include Maggie Philbin, Trev and Simon, Keith Chegwin, Mike Read, Noel Edmonds and Basil Brush. 3 people got every single question correct and were therefore presented with a certificate and HRB mug.
Presenter Neil Ogden caught up with Trev Neale at the Leicester Square Theatre in London to give him his certificate.

You can hear everyone taking part in a special compilation show this Saturday morning at 11am.