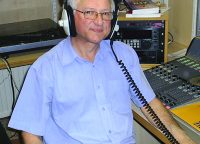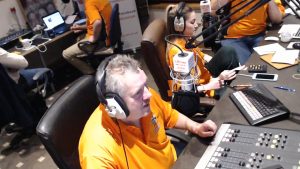 Once again HRB was part of a 42 hour hospital radio extravaganza during the final hours of 2018, as 47 hospital radio stations from around the UK joined Richard Smith and his team for The BIG Broadcast.
It was a packed weekend which started on 30 December with an evening of requests for patients listening around the UK. The requests continued on Monday afternoon, Monday evening and Tuesday morning with over 100 played in total during the show.
On New Year's Eve morning, 4 stations around the UK including HRB joined in live from the wards talking to patients live on air and playing their requests. HRB presenter Neil Ogden visited C2 and E1 to chat to patients on those wards including Mary on C2 who had been listening to the show from the start and enjoyed listening to all the contributions from hospitals around the UK.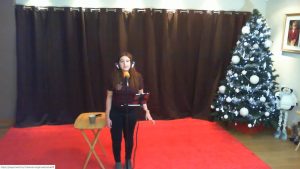 There was live music too as singer Jess McGlinchey sang live from the Live Lounge – which really is a lounge at Richard's house in Lancashire where the show was based.
Kevin, who was a patient on C4 joined in the A to Z of Pop Trivia Challenge along with other patients around the UK – and won himself a prize for his efforts too.
There was also the Room 101 feature with celebrities who wanted to throw out their least favourite song.
There was panto fun with the show's production of Cinderella, the announcement of the nominations for the National Hospital Radio Awards and there was even an hour presented live from the hot tub!
HRB Programme Controller Neil Ogden said "The BIG Broadcast is always a well produced show and a great way to entertain our listeners during a time when we would not normally be live for much, if any, of the time ourselves. Our listeners were able to interact with the show and take part by requesting their favourite music. The show is always entertaining and we look forward to the next one"
It was a very successful weekend and kept thousands of patients entertained as 2018 turned into 2019. Work is now underway for the next show in 12 months time.