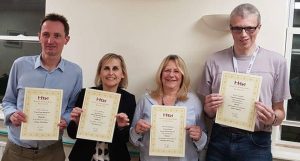 It's that time of the year again – the nominations have been announced for the National Hospital Radio Awards 2019 and HRB is shortlisted 4 times.
The awards are organised annually by the Hospital Broadcasting Association and celebrate the high quality of hospital broadcasting around the UK at around 200 or so hospital radio stations.
This year, April Haywood has been nominated in the Best Newcomer category, Christine Rowley is nominated in the Best Female Presenter once again, the promotional trailer for Music on demand is nominated in Best Station Promotion and the station is once again one fot he 10 stations shortlisted in Station of the Year.
All the awards will be announced at the gala awards evening in Stoke on Trent on March 30.
The full list of nominations can be found at www.hbauk.com.