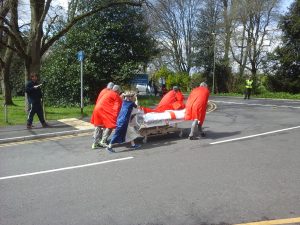 HRB was out around the hospital on 23 April to cover the North Hampshire Medical Fund Bed Push.
The event brought back a tradition that used to happen every year to raise money to buy essential equipment at Basingstoke and North Hampshire Hospital.
Teams of 6 people went attempted the 0.7 mile course around the site, starting and finishing in the main car park. There were prizes for the quickest team and the best dressed team, with the fastest doing the course in under 6 minutes.
[embedyt] http://www.youtube.com/watch?v=5LnQYAtf0rk[/embedyt]