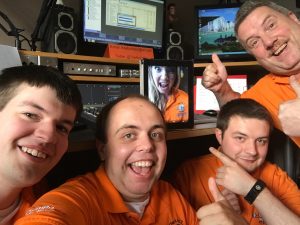 Richard Smith and his team will be back on HRB to see in the new year with another BIG Broadcast.
The show, which started in 2012, is broadcast live from Richard's studio in Lancashire and is heard on around 50 hospital radio stations around the UK and Ireland.
Highlights this year include 3 live music performances including the return of the popular Jess McGlinchey, the BIG Broadcast Panto and plenty of opportunity to make a request.
The total length of the show is 48 hours this year and HRB will be opting in and out for about half of the show over the weekend.
To join in, the phone number is 033 33 601 301 or use social media via Twitter (@bigbroadcastuk) or search on Facebook.
The whole of the show is also available online at www.thebigbroadcast.co.uk where the team can be seen in action on the studio webcams.
The BIG Broadcast 2021 starts at 6pm on 31 December.