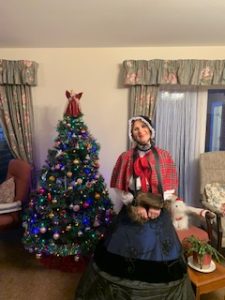 HRB's Margot Konitzer took a little festive cheer to Lady Place Court in Alton on Thursday, 15th December 2022.
The residence is run by mha.org.uk. The charity offers affordable housing designed to support well-being and independence in later life. They have many groups and activities. They offer fun, friendship and conversation. They are the UK's largest charity care provider.
Margot was invited to read an annotated version of 'A Christmas Carol' by Charles Dickens to the weekly poetry group. She was also asked to dress as Mrs. Catherine Dickens, the wife of Charles Dickens and mother of his ten children. Margot managed to put together an authentic looking Victorian outfit to match the date of 1842, when Charles Dickens wrote 'A Christmas Carol.' She found a blouse, a Victorian choker, a hooped petticoat/skirt, a Victorian bonnet and a tartan cape and put a blue silk and black velvet overskirt over the petticoat. She did find that it was impossible to get through doorways in the hooped attire and definitely not able to get in the car and drive! She was able to change when she got there and entered the Lady Place Court common room as Mrs. Catherine Dickens, to the delight of those present.
The attendees of the poetry group were greatly appreciative of Margot's reading, which lasted about 45 minutes. The annotated version was condensed by Dickens for his public readings. Margot read Stave 1 – Marley's Ghost, Stave 2 – The First of the Three Spirits, Stave 3 – The Second of the Three Spirits, Stave 4 – The Last of the Spirits.
Margot enjoyed chatting to Sylvia, Jean, Joy, Ruth, Marilyn, Sally and Brian. A couple of the ladies asked for requests to be played on Hospital Radio. The afternoon was rounded off perfectly with mince pies, home-made Victorian sponge and plenty of cups of tea!
Margot promised to return to do more readings.