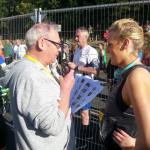 HRB will be broadcasting coverage of one of the UK's biggest sporting events this weekend, joining our colleagues at Radio Tyneside for The Great North Run.
Coverage will begin at 9am and we'll hear the buildup to the race, talking to some of those taking part and hearing some of their stories.
We will rejoin the coverage at 12.30 for the final half hour, rounding up what should be an excellent occasion.
It's the UK's biggest half marathon – hear it on HRB Sunday from 9am.