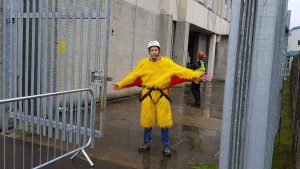 HRB was out in the rain this weekend to cover the North Hants Medical Fund abseil live.
The event took place at the back pf the Basingstoke and North Hants Hospital with volunteers raising money for the charity that buys essential equipment fo the hospital.
As well as those raising money, there was one extra participant as HRB's Friday evening presenter Simon Penn took part too.
Unfortunately, the rain played havoc with our equipment and we weren't able to hear Simon as he came down the wall, but we did talk to some of the others taking part and described what was going on for our listeners.