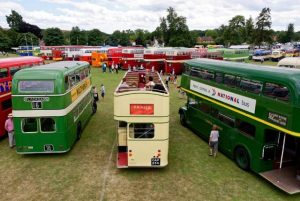 HRB will be broadcasting live from one of Alton and Hampshire's biggest events this Sunday.
There will be all sorts of things going on at the Alton Bus Rally and Running Day which is on Sunday 17 July from 10am at Anstey Park in Alton.
The 'Rally' features a display of around 150 Buses and Coaches of all shapes and sizes from a variety of eras and operating areas. In addition there is also a large display of other types of vehicles including Classic Cars, Lorries, Motorcycles, Vans, Emergency Services and Military vehicles.
The 'Running Day' consists of a network of free bus services operating from Alton to surrounding villages and towns, re-creating the 50's, 60's, 70's and 80's era of bus operation in East Hampshire. Buses also connect with Steam and Heritage Diesel Trains at certain Mid Hants Railway Stations.
Join Elliot Moyle and Payge Aitchison as they find out more about the event, talk to some of those taking part and even broadcast live from one of the open top busses.
Find out more about the event at www.altonbusrally2015.com/
HRB Out and About at the Alton Bus Ralley and Running Day, Sunday 17 July 12pm.