HRB Opens Its Doors Once Again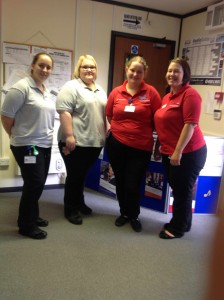 Hospital Radio Basingstoke is once again opening its doors and inviting staff and those associated with the hospital to visit the station and find out more about what it does at the hospital.
The HRB Open Day 2015 will start at 12pm on Friday 18 September and will continue throughout the day until 6pm. Staff can come and meet some of the team and have a request played too.
The Mayor of Basingstoke will be visiting the station and will reveal on air the 91000th request to be played on HRB since 1984.
The station will continue broadcasting its Music on Demand request shows through to 10pm with the aim to play 100 requests in 10 hours.
Last year's visitors included the play team from G Floor(pictured above) and Liz Padmore, Chairman of the Hampshire Hospitals NHS Foundation Trust.