Hospital Radio Basingstoke has scooped one of the top prizes at the National Hospital Radio Awards 2015.
The station was shortlisted in three categories at the event, which was held in Newcastle at the weekend. Dave Warren and Christine Rowley won the Gold award in the Best Show with Multiple Presenters.
It was the second award for Dave, who is a previous Silver winner in the Best Male Presenter category, while Christine has previously won in the Best Newcomer and Best Female Presenter.
HRB was also shortlisted in the Best Female Presenter category, and for Station of the Year, which was won this year by Hospital Radio Plymouth for the 5th time.
The awards show was part of an annual weekend conference for hospital radio volunteers from all around the UK and was held in Newcastle on Saturday night. The awards show included appearances by Stacey Soloman, Ken Bruce, Alan Dedicoat, Lulu, Bill Turnbull, Eamonn Holmes and Simon Stevens Chief Exec of the NHS.
Dave, also HRB's Chairman, said he was "deligyted" with the award.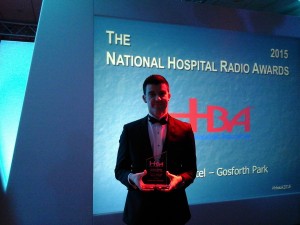 He also added that he wanted to dedicate the award to former HRB member Alan Minto, who sadly passed away last week. Alan was a member of the station from 2001 – 2009 and played a huge part in helping to rebuild the station after it was off the air for 18 months in 1999 due to a fire, as well as being part of the team which planned the move to new studios in 2008.