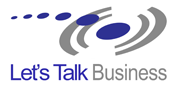 Seems like the banks are now making more of an effort to attract small businesses and new start-ups. A couple of weeks ago we heard from Santander and now HSBC have started a countrywide tour to inspire new entrepreneurs and have stumped up £150,000 in prize money. The host of the first event was Katie Derham. You'll know her from ITV News and Strictly Come Dancing. We hear why she thinks this helps new and existing business owners.
Have you ever had a conversation with a computer? The people behind a new social media tool say you'll be doing just that in the future on a regular basis and you'll be none the wiser. The mood matching software called Sociomole is set to revolutionise how businesses interact with customers on social media. The inventor says, that it's the future of social media.
Josh has news from the Tech' Deck including how Apple's iPhone can be hacked wirelessly from across a room. Plus, Twitter have come up with an exciting new development, Twitter Polls. We explain how they could really help businesses understand their customers.
And scientists have found out how to make the average indoor worker twice as smart. No joke, this will have serious benefits for people who make life changing decisions, like doctors and surgeons.
Let's Talk Business, Fridays at 9am