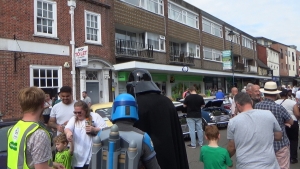 It's always one of Alton's biggest events of the year and this year was no exception. The son shone and over 200 classic vehicles filled the high street in Alton.
The Alton Classic Car Show has been running for 20 years and always attracts thousands of people to the town.
As well as the cars, live music and entertainment was provided throughout the day and there was even the added attraction of Darth Vader from Star Wars.
HRB was there and you can hear the programme that was recorded on Saturday 14 October at 10am. In the meantime, check out the video of the day.