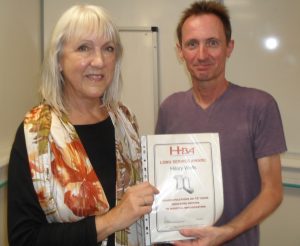 HRB ward visitor Hilary Wells has been presented with her 10 year long service award.
Hilary actually joined HRB 12 years ago and so has been regularly collecting requests around the wards since 2007, probably amounting to thousands of record choices from patients and staff during that time.
The ward visitors' role is to visit patients and spend a little more time than presenters are able to, and therefore find out more about our listeners and promote the station.
The long service awards are produced by the Hospital Broadcasting Association who give out awards for thousands of years of service of hospital radio volunteers each year all around the UK.