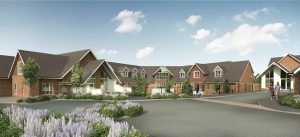 UPDATED
Blenheim Court in Liss is to get its own dedicated Music on Demand show from October..
The care home that is situated in the Hampshire village about 20 miles from Basingstoke will have its own show playing music for its residents on the first Sunday of every month, joining Basingfield Court care home in Old Basing whose residents have enjoyed their own show for just over two years.

HRB changed its constitution in 2016 to be able to include care homes in its audience and the shows have proved popular in that time. Music is known to aid well being and the residents have the opportunity to choose songs they particularly like listening to and which help them remember particular times of their life.
The station would also like to hear from any other care homes in the Basingstoke or Alton area who would like their own monthly show. Contact mail@hrbasingstoke.co.uk for more information.
The new show starts at 4pm on Sunday 7 October