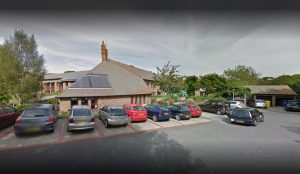 HRB has teamed up with a care home in Popley for a new monthly edition of Residents' Requests.
Starting on Sunday 23 October, the station will play an hour of requests for the residents of Abbey Court.
Residents' Requests has been a feature of the schedule since 2016, playing music for residents of several care homes around the area. Since last Christmas, there have been regular shows for Cherry Blossom Manor in Bramley which have included a special Jubilee edition and a show recorded at their summer fete. It is well known how important music can be for people with dementia and residents hearing their favourite music as well as their name mentioned, has brought enjoyment to all those who have listened.
The station will also be teaming up with at least one care home locally for this year's Great Christmas Cracker Dash, a regular feature of the Christmas schedule since the 1990s. As ward visiting at the hospital is still limited, it is the residents of local care homes who will be pulling the crackers and telling the jokes on air again this December.
Residents' Requests for Abbey Court, Sunday 23 October 4pm
Here the show below