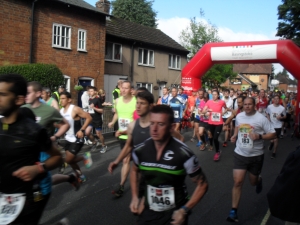 The Basingstoke Half Marathon is back on Sunday 1 October and HRB will be in the War Memorial Park to cover the action.
This year there is the addition of the children's races which will get underway at 9.30am and 9.45am. The half marathon itself along with the 10K will start at 11 with the first 10K runners expected back just over half an hour later. The first half marathon runners are expected back just after 12pm.
HBB's Scott Rawlings will be in the park in the lead up to the start at 11 and Margot Konitzer will be there when the winners arrive back.
You can hear coverage during the special Morning Mix from 10am, with David Blower and Steve Fox from 12pm and with Neil Ogden from 1.30pm.
FULL SCHEDULE OF EVENTS:
09.30am—Children's race, 5-10 years
09.45am—Children's race, 11-15 years
10.00am—Children's Winners Presentation
11.00am—Half Marathon & 10k Runners Start
11.35am—First 10k Runners Finishers expected
12.15pm—First Half Marathon Finishers expected
13.00pm—10k Prizegiving (Top 3 individuals)
14.00pm—Half Marathon Prizegiving (Top 3 individuals)