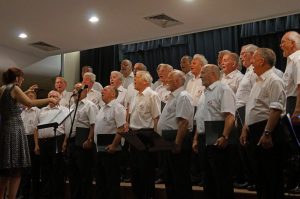 HRB will be broadcasting a special hour of wonderful music featuring the Basingstoke Ladies Choir, 40 members of which recently visited Spain and joined the Costa Blanca Male Voice Choir on stage at a sell-out concert in Teulada.
The ladies performed a varied programme, which included such popular songs as Eternal Flame, Misty and Fly Me to the Moon and the poignant Wherever you are, with which the Military Wives recently had success. The two choirs ended the evening joining together as 75 voices to sing Sentimental Journey and As Long as I have Music.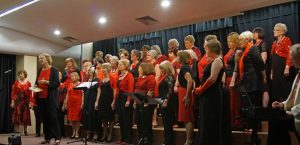 Two members of the Costa Blanca Male Voice Choir were originally from the NHH catchment area but have now retired to Spain – Terry Setford, who lived in Alton until 2002 and Vernon Pearce, who lived in Kingsley near Alton until 2007. Another member of the choir, John Power, did his engineering apprenticeship here from 1956 to 1961. He lived in Basing for most of that time and returned to Basingstoke around 1963, when he worked briefly for Van Moppes.
Basingstoke Ladies Choir In Concert, Saturday 11 June 8pm