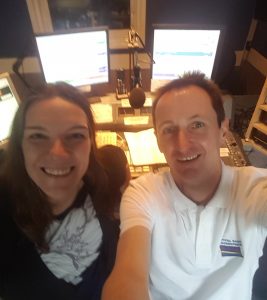 Alex Whitfield, Chief Executive of the Hampshire Hospitals NHS Foundation Trust which runs Basingstoke and North Hampshire Hospital visited HRB on Wednesday 4 April to help present a Music on Demand request show.
Presenter Dave Leonard had already visited D Floor to collect requests which Alex then helped read out as well as explaining a little more about what's going on at the hospital at the moment.
Alex follows in the footsteps of Chairman of the Hampshire Hospitals Trust Liz Padmore who actually presented a show last October, and will be followed in the next few months by Deputy Chief Executive Donna Green who has accepted the challenge to come and do the same. So that's the Chairman, Chief and Deputy Chief in the Chair on HRB!