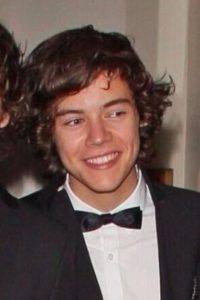 The chart that is compiled from requests played on hospital radio stations around the UK has a new number one.
It's the 18th year that Mark Snowdon has compiled and counted down the chart. HRB is one of the stations that contributes its request data that makes up the chart.
As It Was by Harry Styles is the number one with the former One Direction singer also appearing at number 3.
There were several very high climbers this year, notably Somewhere in My Heart by Aztec Camera climbing from number 1304 to number 15 and West End Girls by Pet Shop Boys going up from 1039 to number 22.
Last year's number one was Sweet Caroline by Neil Diamond which this year fell to number 5.
The chart can be heard again during the rest of January and the full chart is below.
| | | |
| --- | --- | --- |
| Pos. | Last Year | Artist – Song Title |
| 1 | (NE) | Harry Styles – As It Was |
| 2 | (7) | Abba – Dancing Queen |
| 3 | (63) | Harry Styles – Sign Of The Times |
| 4 | (NE) | George Ezra – Green Green Grass |
| 5 | (1) | Neil Diamond – Sweet Caroline |
| 6 | (21) | Rod Stewart – Maggie May |
| 7 | (NE) | The Eagles – Hotel California |
| 8 | (568) | Foreigner – I Wanna Know What Love Is |
| 9 | (5) | Simon & Garfunkel – Bridge Over Troubled Water |
| 10 | (177) | Men At Work – Down Under |
| | | |
| 11 | (2) | Queen – Bohemian Rhapsody |
| 12 | (95) | Rick Astley – Never Gonna Give You Up |
| 13 | (33) | Dexy's Midnight Runners – Come On Eileen |
| 14 | (NE) | Sam Ryder – Space Man |
| 15 | (1304) | Aztec Camera – Somewhere In My Heart |
| 16 | (NE) | Bluebells – Young At Heart |
| 17 | (349) | Culture Club – Karma Chameleon |
| 18 | (NE) | Ellie Goulding – Love Me Like You Do |
| 19 | (3) | Meatloaf – Bat Out Of Hell |
| 20 | (18) | Dolly Parton – 9 To 5 |
| | | |
| 21 | (19) | Ed Sheeran – Perfect |
| 22 | (1039) | Pet Shop Boys – West End Girls |
| 23 | (176) | Westlife – Flying Without Wings |
| 24 | (NE) | Human League – Don't You Want Me |
| 25 | (43) | Toto – Africa |
| 26 | (70) | Meatloaf – Two Out of Three Ain't Bad |
| 27 | (128) | The Communards with Sarah Jane Morris – Don't Leave Me This Way |
| 28 | (8) | Queen – I Want To Break Free |
| 29 | (67) | Robbie Williams – Angels |
| 30 | (4) | Frank Sinatra – My Way |
| | | |
| 31 | (143) | Kenny Rogers & Dolly Parton – Islands In The Stream |
| 32 | (NE) | Belinda Carlisle – Heaven Is A Place On Earth |
| 33 | (1078) | Tiffany – I Think We're Alone Now |
| 34 | (NE) | Encanto – We Don't Talk About Bruno |
| 35 | (NE) | Reo Speedwagon – Can't Fight This Feeling |
| 36 | (NE) | Chaka Khan – I Feel For You |
| 37 | (17) | George Ezra – Shotgun |
| 38 | (26) | Rod Stewart – Sailing |
| 39 | (48) | Pussycat – Mississippi |
| 40 | (415) | Kate Bush – Running Up That Hill |