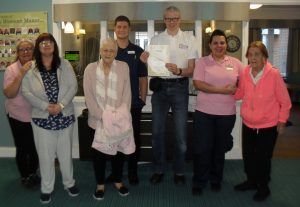 The residents' of Cherry Blossom Manor in Bramley have been enthusiastically choosing their favourite music for their monthly request show for over a year. Once a month, Residents' Requests plays music they have chosen and the show seems to be enjoyed by all who take part.
Last summer, HRB recorded a special show where some of the residents recounted their memories of the Queen to mark her Platinum Jubilee. The hour long show was then entered into the National Hospital Radio Awards and was subsequently nominated in the Best Speech Package category.
To celebrate the nomination, the station decided to give the nomination certificate to the care home and presenter Neil Ogden visited to do the presentation.
At the same time, he recorded residents chatting and introducing their favourite songs, which formed their next Residents' Requests which was broadcast the following Sunday.