HRB at the Alton Lions Party in the Park 2019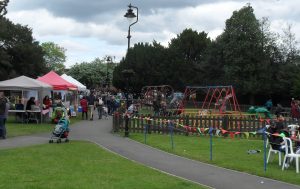 It's one of the biggest events of Alton's year. Taking place every June in the Public Gardens, the Alton Lions Party in the Park is a mixture of stalls and attractions from local organisations along with live music and entertainment.
HRB was there once again this year and this Sunday presenter Neil Ogden will host The Sound of Sunday Summer Special from the event, talking to some of those taking part and some of the organisations who were part of it.
The event aims to raise money for Treloars College, a well-known part of Alton and a popular local cause.
Local band Tripwire prvided the live music and there was lots of other attractions to see and do, despite the slightly autumnal summer weather.
The Sound of Sunday Summer Special, Sunday 4 August at 2.30pm