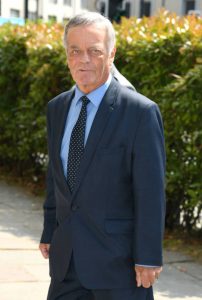 (Photo: Getty Images)
HRB will be remembering the era of pirate radio in 3 special programmes over this bank holiday weekend.
The programmes combine new interviews with archive broadcasts – and loads of great music – to tell the real story of the pirates, their love of music and the move into illegality on the 55th anniversary of pirate radio being made illegal.
The programmes were originally heard on the radio station Absolute Radio 60s who have given hospital radio permission to broadcast them especially for hospital radio listeners.
Tony Blackburn talks about his love of Wonderful Radio London – and their funky jingles. Tony presented the first soul music programme in the UK and developed the Fabulous 40 format which combines the best new music with greatest hits.
• Johnnie Walker tells us about falling in love with pirate radio while working as a car salesman in Birmingham.
• We'll hear archive broadcasts of Kenny Everett and his chaos – and his reports from touring with The Beatles in 1966.
• We bring you the inception of that weird new music programming that John Peel was known and loved for in the Perfumed Garden from 1967
• Tommy Vance brings us the final Fabulous 40 from Sunday 6th August 1967.
• In 1966, a feud over money between two rival fort-based pirate stations – Radio Atlanta and Radio City, resulted in the murder of Radio City's owner Reg Calvert. Susan Calvert joins us to talk about the life of her dad – and how his passion for music took him on a journey into the world of the pirates.
• Leona Graham – and her dad – talk about their love of music radio which all started with the DJs on the pirate ships.
• Radio historian David Lloyd gives us a fabulously detailed history lesson, packed full of archive, to show the evolution of music radio from the 1950s to the present day.
• Shaun Keaveny shares his love of music and broadcasting – and the impact and legacy of the pirate radio stations – and, yeah, he wangs on about The Beatles again.
• Jordan and Perri from Kiss Breakfast talk about continuing the pirate traditions on Kiss FM, so that the music you love gets played in the way that it does.
• Tim Blackmore – the man who helped to launch Radio One before becoming part of Britain's first land-based commercial music station, Capital in London – tells us all that he learned from listening to Radio London and how it influenced his 50 year career in radio.
Absolute Radio Pirates is produced by Laura Grimshaw for unusual. The Executive Producer is Jon Holmes, with archive from Mike Leonard and the Offshore Radio Museum.
Enjoy Absolute Radio Pirates on HRB over the August Bank Holiday Weekend.
Saturday 27 August 7 – 9pm
Sunday 28 August 7 – 9pm
Monday 29 August 6 – 8pm