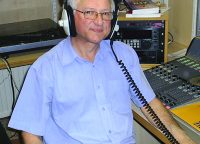 On 6 June 2014 there will be numerous events marking 70 years since D Day. HRB will be joining in too with a special edition of Looking Back.
At 9pm on 6 June, Terry Firth will look back to the news and the music of this week 70 years ago. How was the news of the D Day operation reported locally and what else was in the headlines this week of 1944?
Looking Back: June 1944 with Terry Firth, this Friday at 9pm on HRB.