HRB Wins Bronze in Station of the Year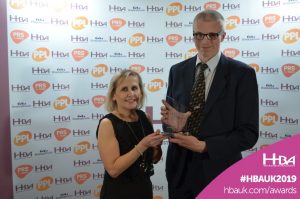 Hospital Radio Basingstoke has scooped the bronze award in the Station of the Year category at the National Hospital Radio Awards 2019.
The showcase event, organised by the Hospital Broadcasting Association, was held in Stoke on Trent on 30 March to celebrate the high quality of programming produced by hospital radio volunteers around the country. HRB was nominated in 4 of the 11 categories.
Station of the Year showcases a station's diversity of programming and interaction with listeners, and each entry was asked to give a 15 minute insight to a station's programming, style, content and volunteers.
The competition was judged by a range of people from the broadcast industry as well as those who work in the NHS. They gave comments on the winning entries and for HRB they said "The judges said this is a powerful entry demonstrating excellently a real diversity of programming. The station is clearly active on the wards and some elements were surprising and thoroughly endearing. A great listen overall and a well assembled entry."
HRB's entry along with all the winners can be found at the HBA's website www.hbauk.com