New Movie and Home Entertainment News Show Starting on HRB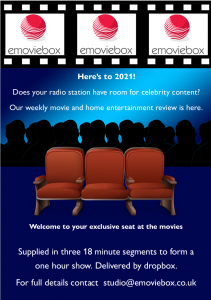 A new movie and home entertainment news show comes to HRB this weekend (30 January). eMoviebox will bring you the latest movie news, home entertainment news and music from movie soundtracks every Saturday morning at 11am.
Paul Baker is the presenter of the show, which has been running on various radio stations around the UK for over 5 years, with recent guests including Keanu Reeves and Sir Kenneth Branagh.
eMoviebox – Saturdays at 11am