Extra Time Inside the Cities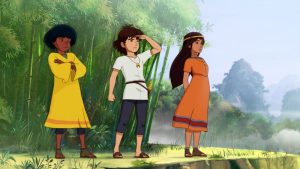 It was a 39 episode cartoon series based on the book The King's Fifth and shown on BBC One in the late 80s. Phillip Schofuield subsequently led the nation in a sing-a-long after sending out songsheets to the theme song. Mysterious Cities of Gold took on cult status after it was shown on TV and in the 1990s we produced a radio adaptation using episode summaries on one of the many MCoG websites.
To accompany that, The Sound of Sunday produced a 30 minute programme talking about the story the series was based on and some of the myths and legends surrounding it. We also played some of the brilliant music from the soundtrack.
That programme Inside The Cities was re-recorded for the show's 25th birthday 5 years ago and for its 30th, you can hear it again.
Get ready to relive the music and the myths behind one of the best loved cartoon series of its time.
Inside The Cities, 31 January 4pm