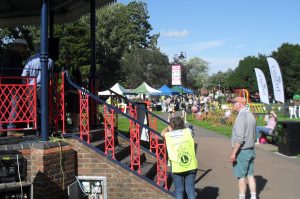 For the first time in two years, HRB was able to be out and about at a local event.
Presenter Neil Ogden went along to the Alton Lions Party in the Park, a regular annual event organised by the Alton Lions to raise money for Treloars college and other local charities and groups.
The weather was hot and sunny as thousands of people flocked to the public gardens to see the various stalls and activities as well as listen to the live music.
The crowd was even treated to the Red Arrows as they flew over on their way to nearby RAF Odiham!
You can hear all about it in The Sound of Sunday Summer Show on Sunday 29 August at 4pm.