Remembering the Events That Can't Happen in 2020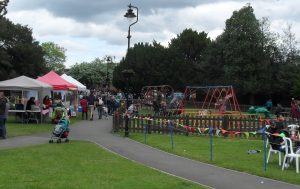 HRB enjoys getting out and about at local events to bring them to our listeners and has covered many local events over the years. But of course most of those will be cancelled in 2020.
So we'll be remembering some of those local events from previous years in the coming weeks. HRB has already repeated the Basingstoke Transport Festival from 2019 and revisited the Popley Festival from 2016. This weekend it's the turn of The Alton Lions Party in the Park 2019 held last June with a Wild West theme and features in a Sound of Sunday Summer Special in August.
Hear an hour long version of that show on Saturday 6 June at 4pm.
Later in the summer you'll also be able to hear again last year's B-Love coverage and the Basingstoke Parade which kicked off The Basingstoke Festival a few years ago. The Basingstoke Transport Festival is rescheduled for September and we're hopeful that the Alton Classic Car Show will be able to go ahead at the end of September and fingers crossed we will be there to cover them.