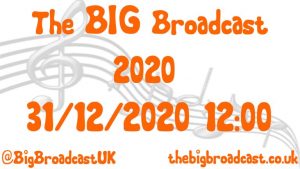 2020 will certainly not have been the year we were expecting, but The Big Broadcast 2020 will be on the air as usual providing listeners to HRB and hospital radio around the UK and Ireland with 30 hours of entertainment starting on New Year's Eve.
The show has been a regular fixture of New Year's Eve almost every year since 2012 and has included live music, pantomime and most importantly plenty of listener interaction from the wards of the UK's hospitals. Last year 50 stations took the show.
The whole show will be on HEB as usual and you can of course listen online and you can watch the show too on the webcam stream at The Big Broadcast website.
So join Richard Smith, Jonathan Sawyer, Matthew Rolland, Ruth Stapleton and Oliver Stables for the biggest hospital radio party of the year live from mid-day on New Year's Eve.